Saint George's Abbey is a heritage site located in Stein am Rhein, Switzerland at the confluence of the Lake Constance and the river Rhine. The former Benedictine abbey is excellently pr
eserve
d and features outstanding cultural treasures.
A new permanent visitor experience was developed as part of a wider redevelopment of the site into a modern visitor attraction. SLT is responsible for the interpretational design, signage and the
overall identit
y
. The permanent visitors experience is conceived as a series of four interventions throughout the site.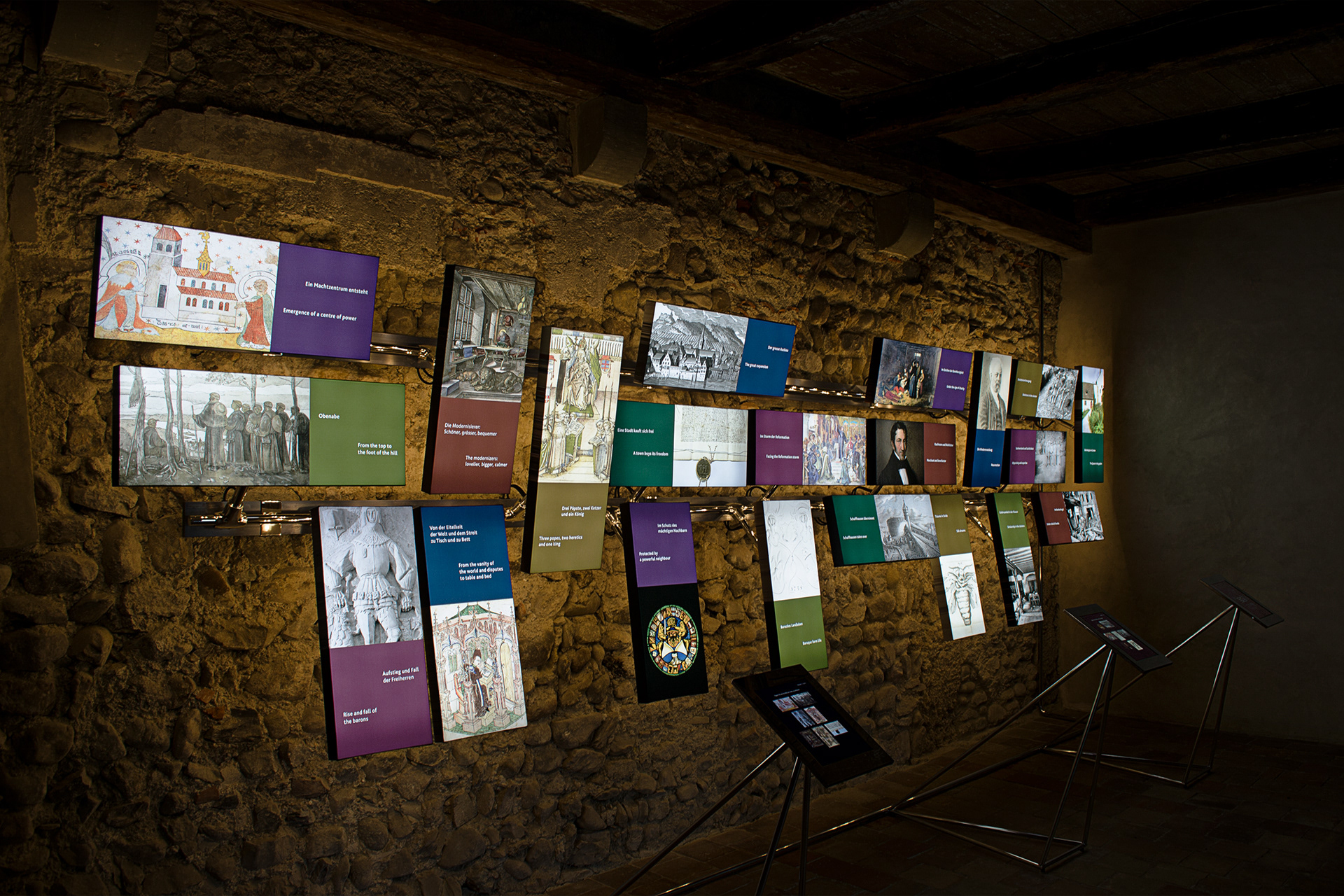 Although the site is an abbey in its architecture it was only used as such until its dissolution during the Reformation. Since then it experienced a multitude of usages. Over the course of its 1000 years of existence the abbey has become a place of many stories.

The first intervention is a installation bringing to live the 1000-year history of the site through a series of single stories. Light boxes are fixed to a wall with touch screens placed in front. Every light box is associated with one story. On the touch screens the visitor can gain more information about these stories. Thereby the stories are presented through an eclectic, yet cohesive mixture of text, images, motion graphics and film.
This first intervention is followed by an architectural model and isometric representation of the site to allow a visitor to gain an overview of the entire site.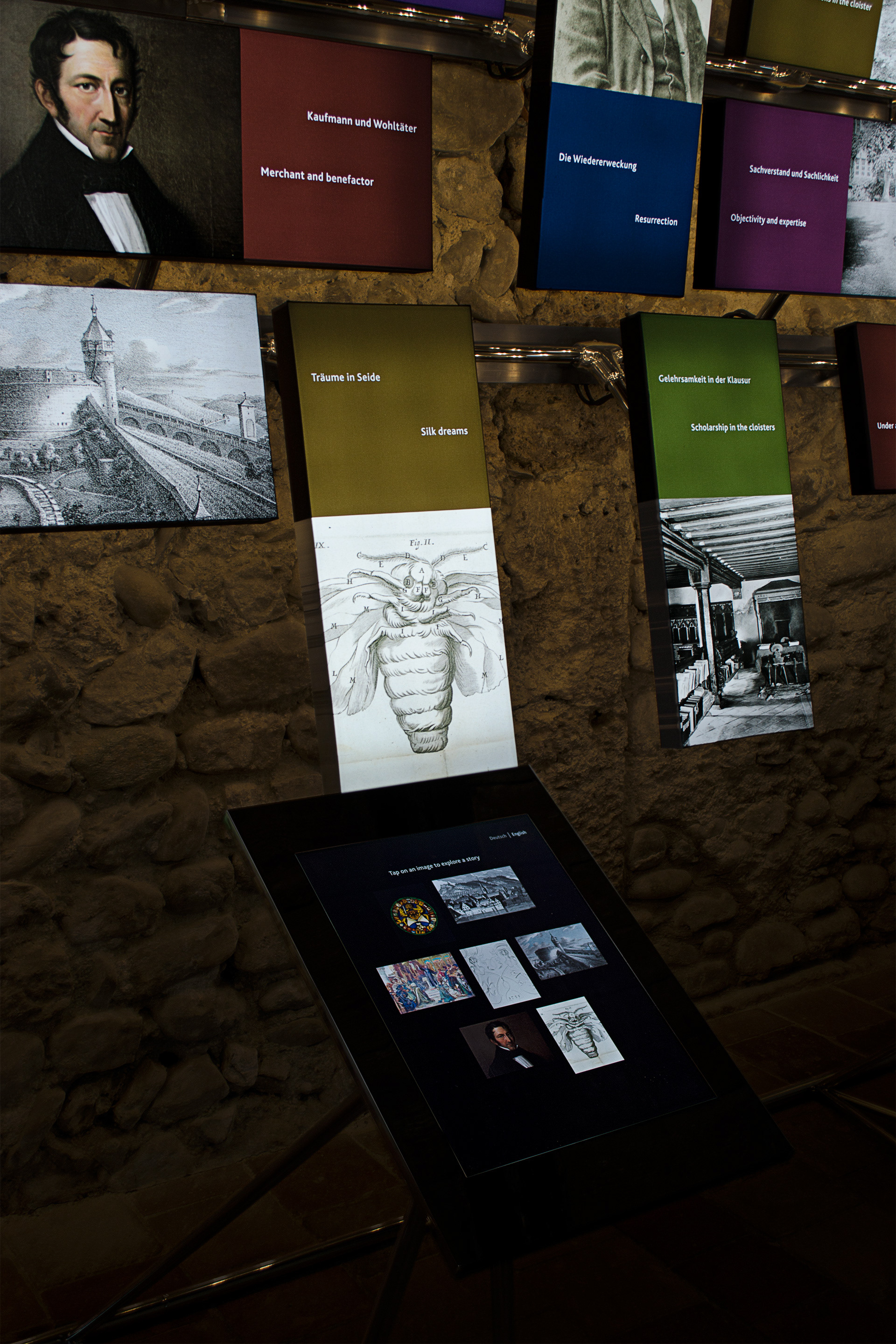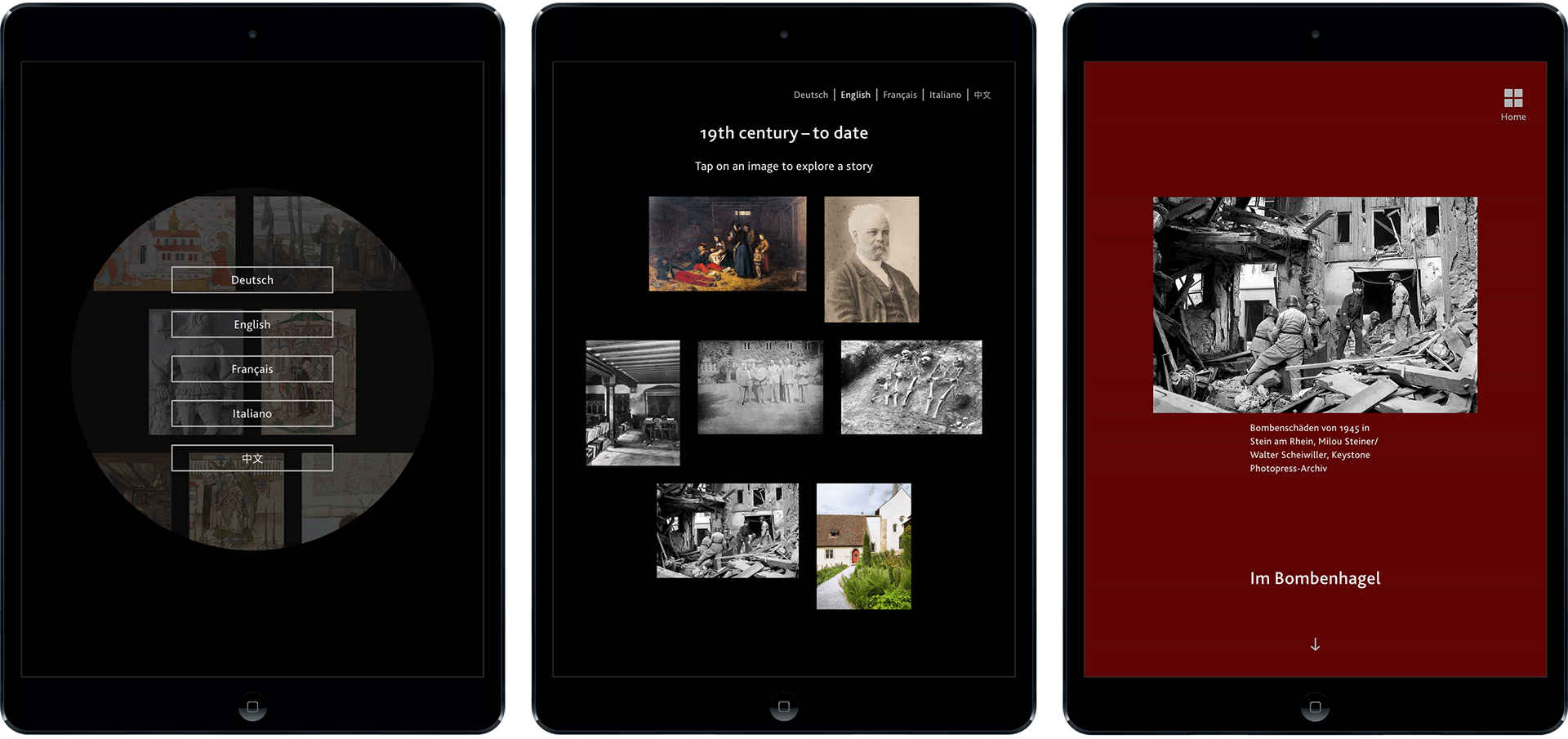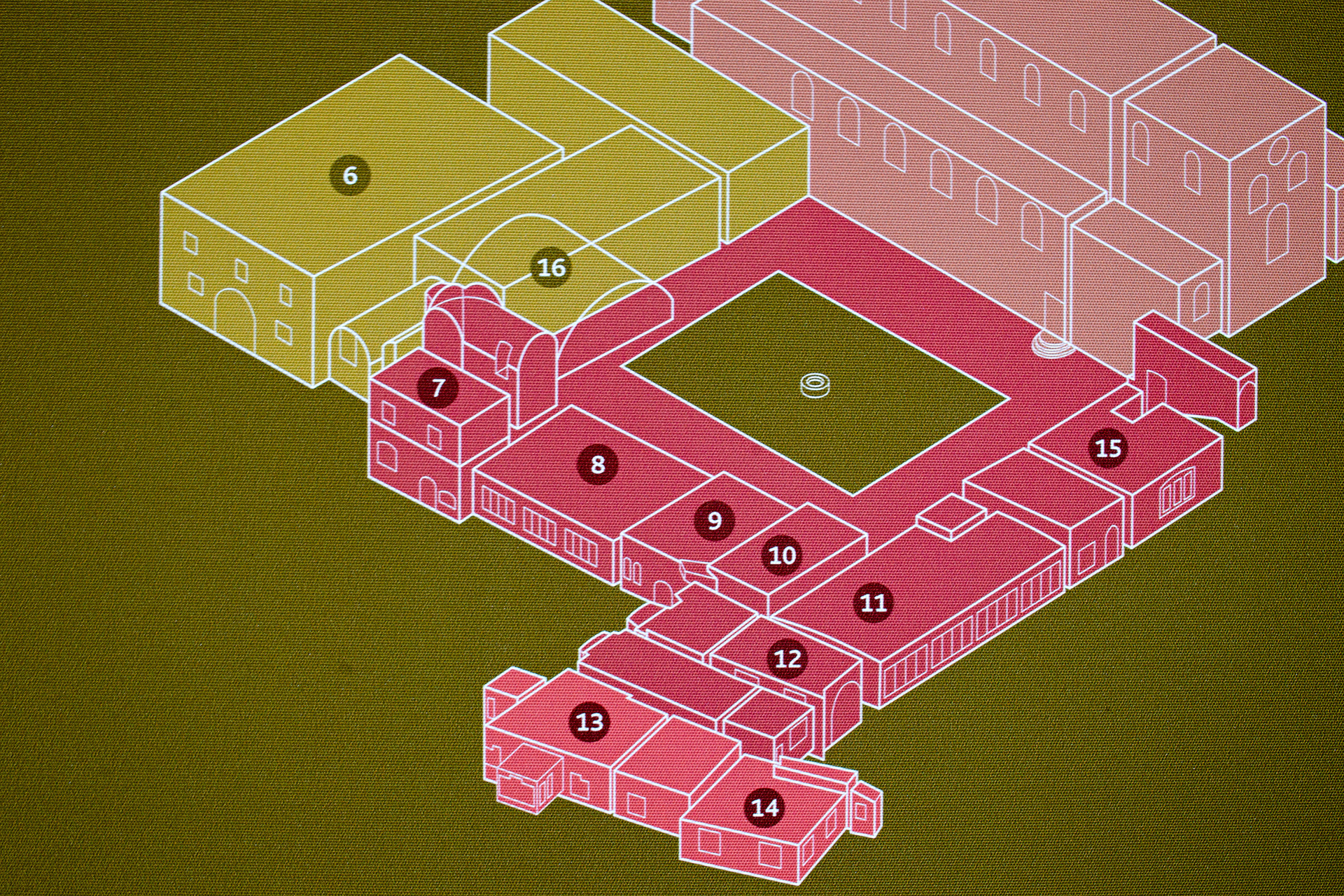 An outstanding cultural treasure

Saint George's Abbey is most famous for the so-called Banquet Hall with its early-Renaissance frescos, which are considered to be unique north of the Alps. Due to their secular content the frescos remained untouched during the iconoclasm of the reformation. Rich in details the frescos allude to many political issues of the time of their creation through a series of ancient stories.

The third third intervention allows visitors for the first time to fully access the Banquet Hall and experience the frescos up-close while learning about the many stories they contain. The interpretational design shifts between the overall narrative and the high-lighting of specific details. It is designed with great precision to guide the visitors without competing with the frescos.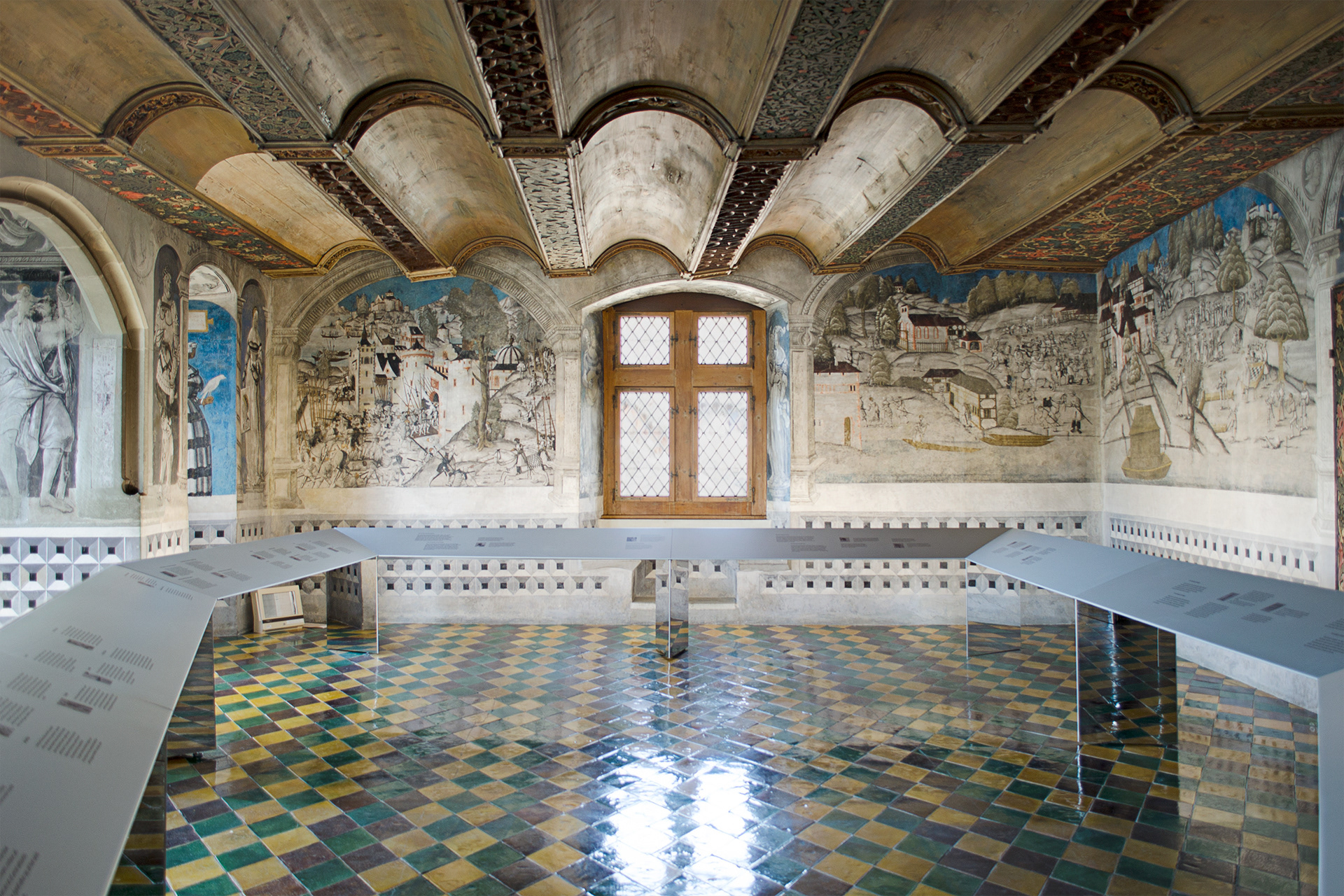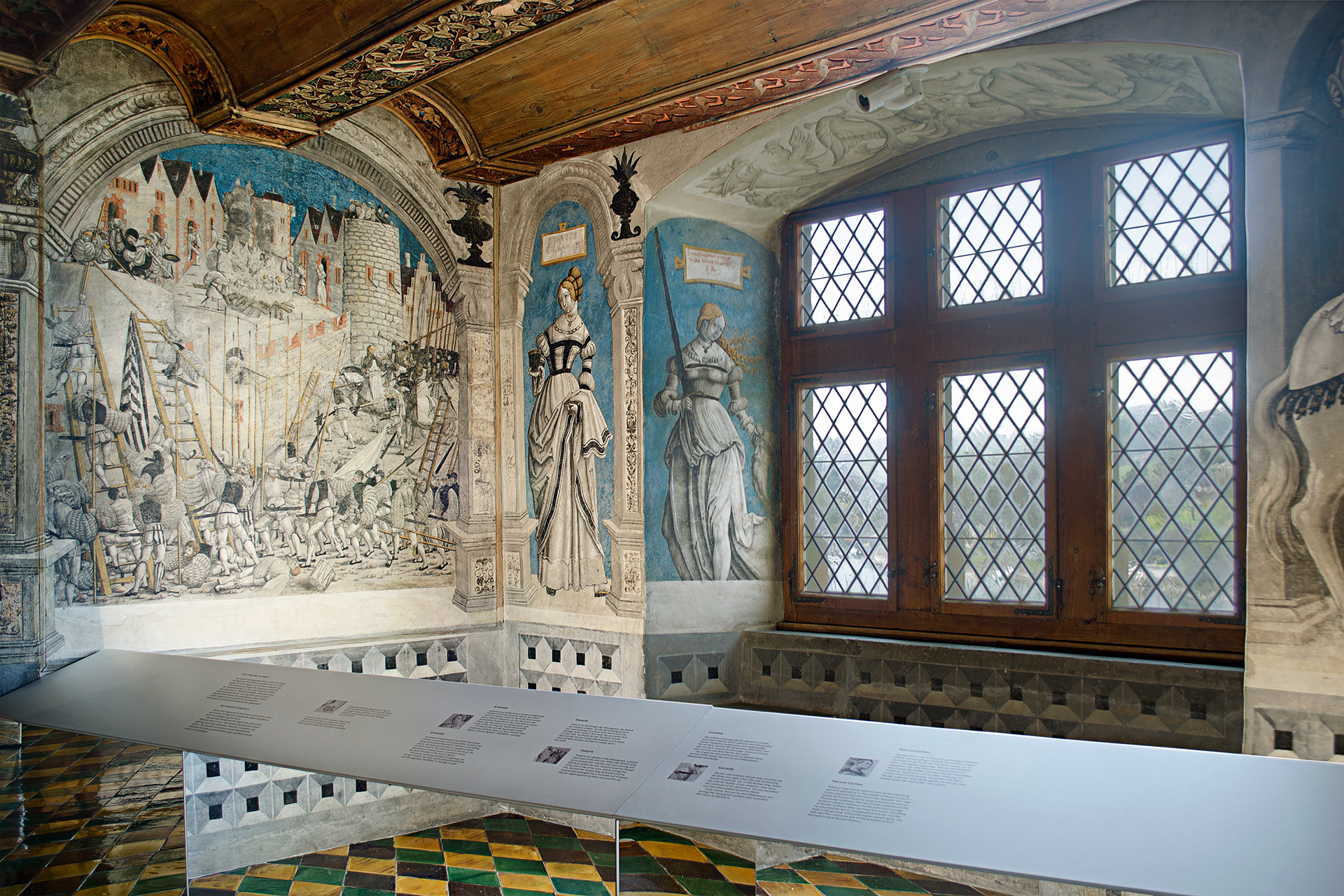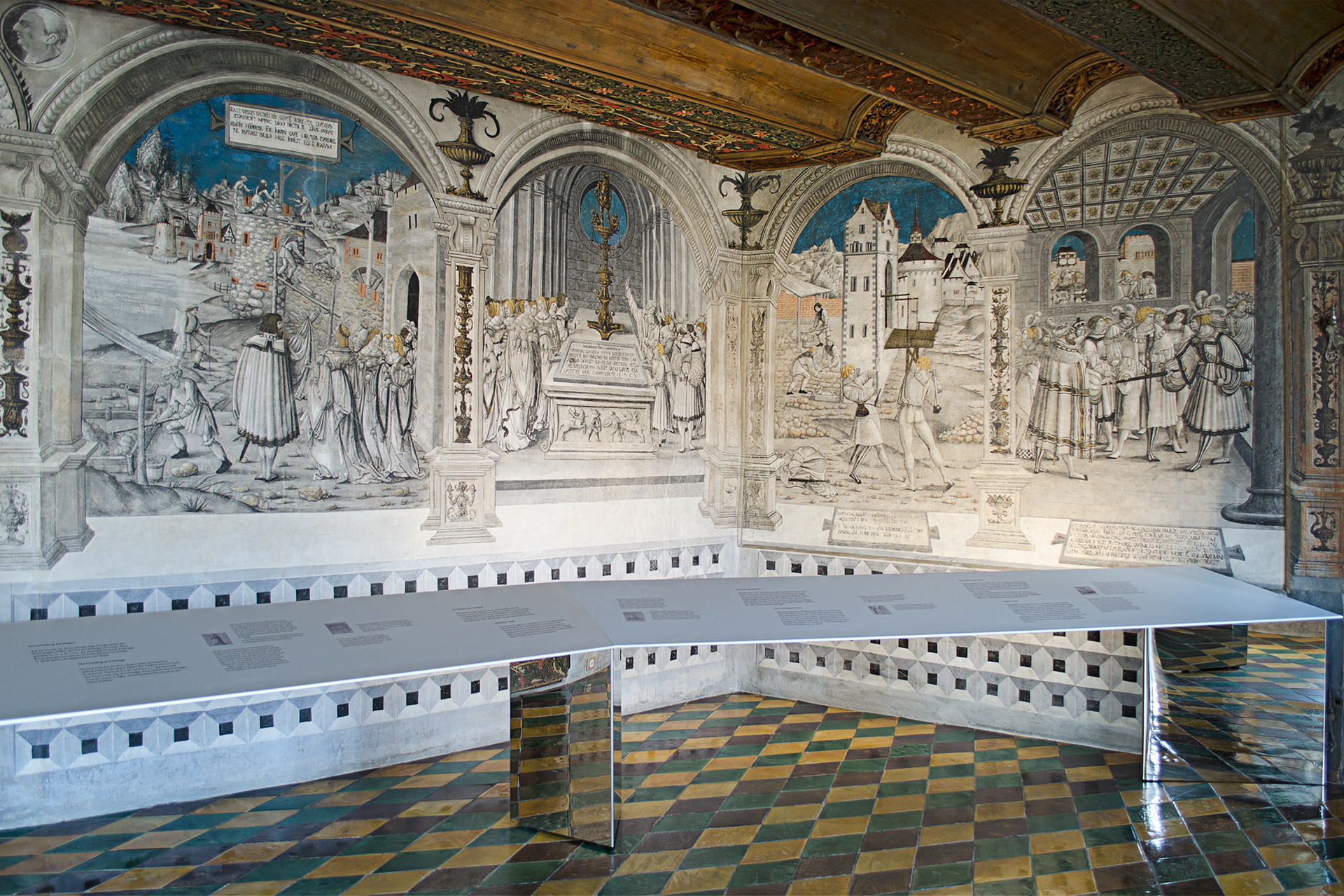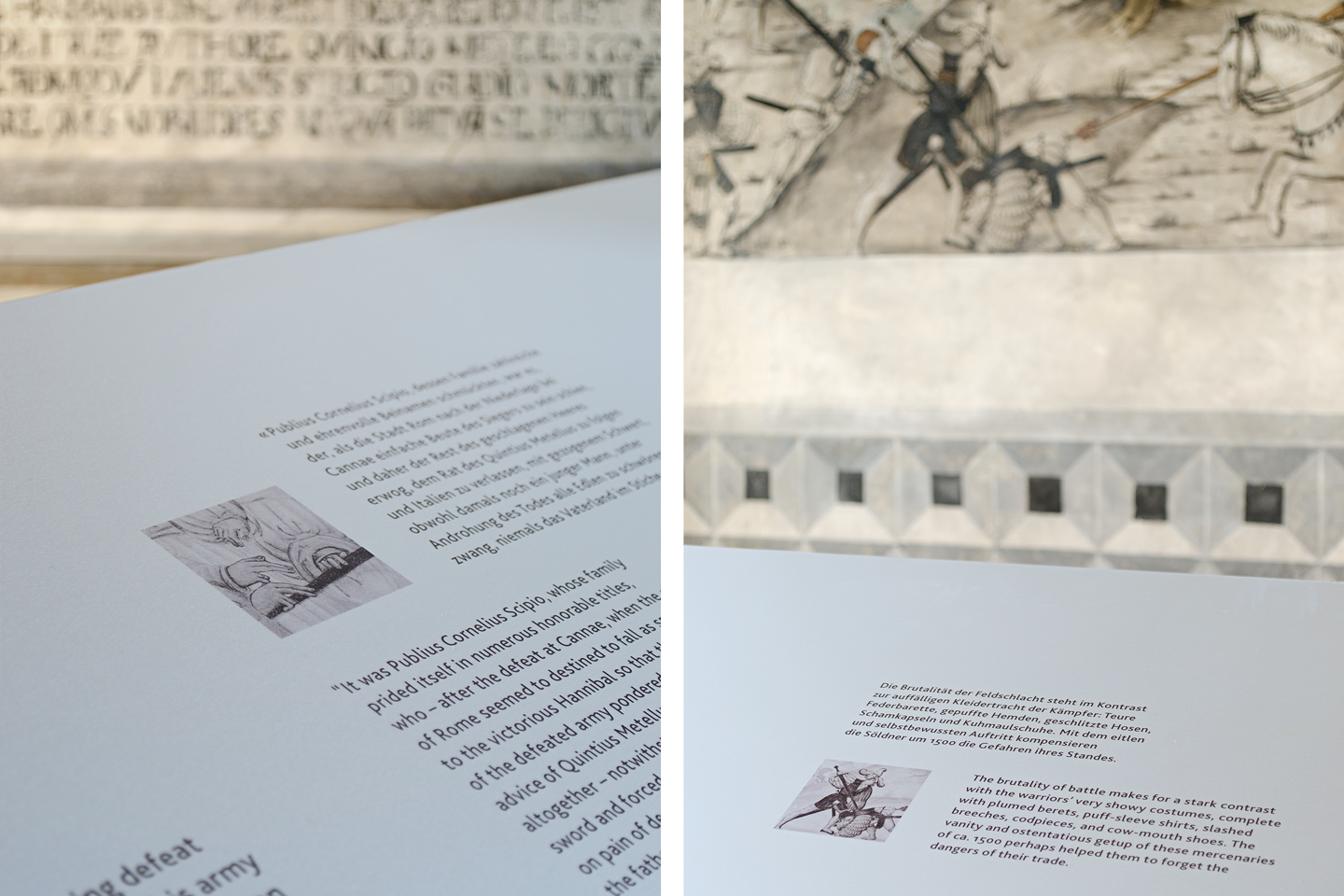 The legend of Saint George

A wall projected animated film by Berlin-based film maker Agnieszka Kruczek tells the legend of Saint George and the Dragon, the patron saint of the ancient abbey. The film starts and ends with the completion of an almost vanished wall painting of Saint Georg dating from the Middle Ages.
Project development

The entire visitor experience was developed as a team effort to guarantee the interplay between the content, its structure, narration and implementation into the existing space.
The touch screen application was developed in collaboration with the curator. SLT was responsible for the development the information structure, storyboarding, user interface design, interaction design, motion graphics and the technical implementation. Furthermore the application comes with an easy to use custom designed back-end.
To optimise the user experience the development process was accompanied by frequent user testing. Thereby not only the functionalities and navigation patterns where tested but also the comprehensibility of the content.



Scope of work:
Editorial concept & design
Environmental graphics
Interaction- and user interface design & implementation
(including the evaluation of technology)
Motion graphics
Overall visual identity
Project partners:
Architectural design and master planning: Holzer Kobler Architekturen
Animated film
The

legend of Saint George:
Agnieszka Kruczek
Eng
ineering
and furniture manufacturing: Girsberger
Video projection: Videocompany
Coding touch-screen application: Panter